The women's golf team is returning to Houston and playing at UH's ICON Invitational at Houston Golf Club - Save the Date!!!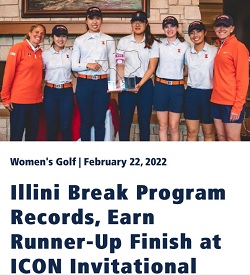 What: The Illini will join 11 other golf teams for this tournament. Details to follow, but tee times are announced the day before and the team will be split across 4 or 5 holes. Admission is free and the only request from the coach is that you are respectful and do not engage with the players.
Why: We don't often get Illini sports teams in Houston so break out your Illini gear for real.
When: Monday, Feb 27, Save the Date!!!
Where: Golf Club of Houston, Tournament Course, 5860 Wilson Road, Humble, TX 77396
Questions: E-Mail Nancy Bradford
Event Details
When:
Mon 27 Feb 2023 (Time TBD), Central timezone

Where:
Golf Club of Houston
5860 Wilison Road
Humble, TX 77396 USA
[ Get Directions ]