With your guests join the Houston Illini Club for a pre-Cubs/Astros social event nearby Minute Maid Park on Monday, May 15 at 6 pm!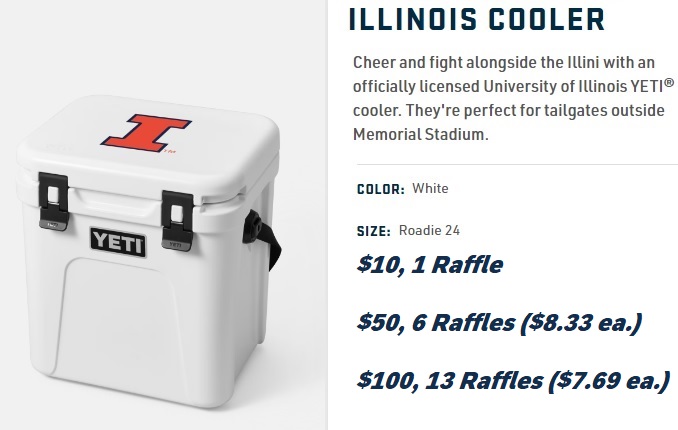 What: Prior to the Cubs vs. Astros game join us nearby Minute Maid Park on Monday, May 15th at 6 pm. Besides meeting-up before the game we wil draw to determine the winner of a YETI® Illinois Roadie 24 Cooler, a $300 value! As the cost of the cooler is covered by the UIAA, all proceeds goes towards the club's scholarship fund! You do not need to attend to be eligible, and if you win you may either pick it up at a club event, or, if requested club president Jason Cables will deliver at no cost to your Houston-area home or office.
Why: Have a great time with other Illini and guests as we meet-up pre Cubs/Astros game nearby Minute Maid, and draw for an Illinois YETI® cooler!
When: Monday, Monday, May 15 at 6 pm
Where: Minute Maid Park's St. Arnolds' Bar (Section 104), a destination bar with a beer garden feel featuring seasonal favorites from Houston's St. Arnold Brewery
Cost: Note that as the YETI® Cooler's cost ($300) is donated by the UIAA, ALL proceeds goes towards the Houston Illini Club's Scholarship Fund!! You may purchase:
Notes:
With any questions contact the Houston Illini's pre-game event organizer, Mark Ulrich, or the club's president, Jason Cables.
As of Jan 12, 2023, the following Houston Illini have purchased raffle tickets:

Mark Ulrich, 13 raffle tickets, $100
Dorothy Lillig, 6 raffle tickets, $50
Stephen Henderson, 6 raffle tickets, $50
Event Details
When:
6:00PM - 6:30PM Mon 15 May 2023, Central timezone

Where:
St. Arnold's Bar (Section 104) of Minute Maid Park
501 Crawford Street
Houston, TX 77002
[ Get Directions ]