JOIN US FOR AT JAKE'S TO CHEER FOR ILLINOIS IN THE RELIQUEST BOWL ON MONDAY, JANUARY 2 AT 11 Am
Join fellow Houston Illini at Jake's Sports for the Reliaquest Bowl on Monday, January 2 at 11 am!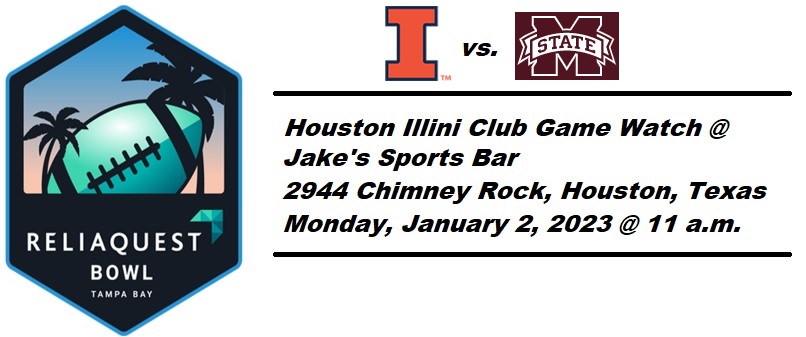 What: Join us for Illini Football in the Reliquest Bowl for a Houston game watch at Jake's Sports! Support the Illinois Fighting Illini vs. Mississippi State!
Why: Let's get together at Jake's to cheer for the Illini in the Reliquest Bowl!

When: Monday, January 2 at 11:00 am
Where: Jake's Sports, 2944 Chimney Rock, Houston, TX 77056
Questions: Mark Ulrich
Note to any Houston Illini going to Tampa for the game: Fellow Houston Illini club member Danny McGovern is going to be in Tampa for the bowl game! If you too are going to be there, email Danny!
Event Details
When:
11:00AM - 2:30PM Mon 2 Jan 2023, Central timezone

Where:
Jake's Sports Bar
2944 Chimney Rock Rd
Houston, TX 77056 USA
[ Get Directions ]