ILLINI VISIT TO THE 1940 AIR TERMINAL MUSEUM, BY ILLINI CAPTAIN LYNN RIPPELMEYER ON SATURDAY, JUN 18, 10:30AM-NOON
Join the Houston Illini Club for an opportunity to see the 1940 Air Museum, and to hear the presentation by Illini Captain Lynn Rippelmeyer.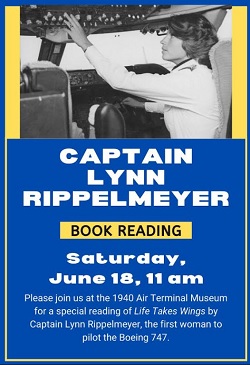 What: Join the Houston Illini Club at the 1940 Air Terminal Museum for a fun and family-friendly day at Wings and Wheels!
Why: Meet Houston Illini Lynn Rippelmeyer, the first female 747 pilot, who will present to Houston Illini, family, guests and members of the public, and provide a book signing.
When: Saturday, Jun 18, 10:30AM-Noon
Where: 1940 Air Terminal Museum, 8325 Travelair Street, Houston, TX, 77061
Cost: $10.00/adult, $5.00/child (12 or less), payable at the door on the day of the event
Questions: E-Mail Lynn Rippelmeyer
Event Details
When:
10:30AM - 12:00PM Sat 18 Jun 2022, Central timezone

Where:
1940 Air Terminal Museum
8325 Travelair Street
Houston, TX 77061
[ Get Directions ]
RSVP Here...
Look Who's Coming:
Mark Ulrich
Houston Illini Club
Donald Wilton
... a total of 2 guests.
Note: to opt out from this list please sign in, go to My Account and change your preferences under My RSVPs.