Join us for brunch and illini football at mkt bar!
Join us for brunch and Illini Football vs. Virginia on Saturday, September 11 at 10 am!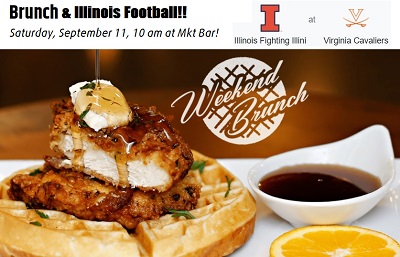 Join us Saturday, September 11 at 10 am for brunch and Illinois vs. Virginia Football at Mkt Bar (1001 Austin Street, Houston, TX 77010.) With questions contact event host, and Social Media Chair, Will Collins!
So Will has a rough idea who's coming please complete your name in the quick RSVP entry.
Event Details
When:
10:00AM - 1:00PM Sat 11 Sep 2021, Central timezone

Where:
MKT Bar
1001 Austin Street
Houston, TX 77010
[ Get Directions ]
RSVP Here...
Look Who's Coming:
William Collins
AaronTonJW AaronTonJW
AaronTon
Tife Bamgboye
James Meyer
Lynn McGrew
NASA
Grant Blazina
Rice University
Derek Harmon
Greg Gao
James Henry
Jason Cables
Edward Vondrak
Carol Camp
Harris County Pub. Def. Office
... a total of 12 guests.
Note: to opt out from this list please sign in, go to My Account and change your preferences under My RSVPs.