JOIN HOUSTON ILLINI FOR SCIENCE & ENGINEERING FAIR OF HOUSTON!
Seeking Illini with backgrounds and expertise in STEM fields to judge the Science and Engineering Fair of Houston on February 13-18!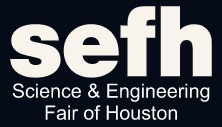 The Houston Illini Club is a Special Award Agency sponsoring awards at the Science and Engineering Fair of Houston. This year's fair will be held virtually with judging between Saturday, February 13th - Thursday, February 18th.
This is a great opportunity for people interested in meeting and inspiring the next generation of young scientists and engineers. If you are interested in being a judge please fill out this form. We are specifically looking for judges with background or expertise in engineering, computer science, mathematics, life sciences, and physical sciences. We will contact you soon about how to register with SEFH. Judges must have at least a bachelor's degree. School and district science fair coordinators and elementary or secondary school teachers are generally NOT eligible to serve as SEFH judges.
For more information, please visit the SEFH website.
Event Details
When:
12:00PM Sat 13 Feb 2021 - 12:00PM Thu 18 Feb 2021, Central timezone

Virtual Event Instructions: