I-HELP VOLUNTEERING OPPORTUNITY - FEED THE CITY AT CLUTCH BAR!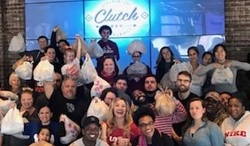 Join fellow Illini and others at Clutch Bar, 5334 Washington Ave; Houston, TX 77007, on Saturday, July 13, 2019 from 8:30 - 11 AM to build meals and feed those that are food insecure.

This is a family friendly event! Please email Houston Illini Jason Cables to RSVP and coordinate the food purchase. Jason is the Houston Illini event coordinator, and has participated in Feed the City events previously, so can answer all of your questions! Find more info about this monthly event and what to bring here: http://www.tangotab.com/feed-the-city-houston-texas.html
If you cannot bring food (see URL), feel free to connect with Houston Illini Jason Cables and he can coordinate shopping!
Post event summary:
2350 meals made!! See photos from this event here: https://houston.illiniclub.org/images.html?view_album=58
Event Details
When:
8:30AM - 11:00AM Sat 13 Jul 2019, Central timezone

Where:
Clutch Bar
5334 Washington Avenue
Houston, TX 77007
[ Get Directions ]