JOIN BOB MORGAN FOR "DOCFEST" ON SAT, SEP 7 @ 7:30PM AT HSPVA'S DENNEY THEATRE
Join fellow Illini Bob Morgan ("Doc" ) on Saturday, 9/07/19 at 7:30 PM at HSPVA's Denney Theatre for "DocFest", a reception/concert/jazz session celebrating the life and career of Dr. Robert Morgan, HSPVA Director of Jazz Studies, 1976-1999.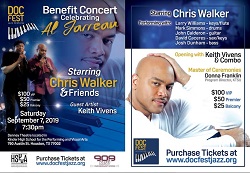 Fellow Houston Illini Bob Morgan is honored and humbled at the existence of "DocFest," and is pleased to report that it is prospering! Founded in 2013 by Chris Walker and Tamar Davis, DF annual benefit concerts have not only provided *great* music for Houston jazz fans and camaraderie among returning ex-students, but have raised substantial scholarship funds (well over $ 100,000!), primarily for the Morgan Scholarship at New York's New School for Jazz and Contemporary Music, but also for the Morgan Scholarship at the University of North Texas and for on-going HSPVA jazz projects. Both Morgan Scholarships, incidentally, are restricted to HSPVA alumni. There will be two DocFests in 2019:
---
Saturday, September 7; 7:30 pm
Denney Theatre on new Kinder
HSPVA campus (790 Austin St.)
Headliner: Chris Walker ('86)
celebrating the release of his new CD:
Celebrating Al Jarreau –
We're In This Love Together
Chris (vocals) will be joined by Al Jarreau's rhythm section, including Larry Williams (KB) from L. A.; also, David Caceres, saxophone
Opening: TKOh!, featuring Keith Vivens ('80), bass. During the evening, Keith will become the 14th inductee into the HSPVA Jazz Hall of Fame
Emcee: Donna Franklin, KTSU-FM
Tickets: $ 25; $ 50; $ 100
Available at docfestjazz.org
---
Saturday, December 28; 7:30 pm
Denney Theatre on new Kinder
HSPVA campus (790 Austin St.)
Headliner: Everette Harp ('79) group
Opening: Michael Rojas ('80) group
During the evening, Michael (from Nashville) will become the 15th inductee into the
HSPVA Jazz Hall of Fame
Further details forthcoming (save the date!)
---
In regard to September 7 concert only:
VIP tiks ($ 100) include front-center seating and complimentary parking (underground/HSPVA)
Premier tiks ($ 50) include rear-center or front-side seating
Balcony tiks ($ 25) - Be assured that these are still excellent seats! Balcony in the new Denney Theatre is much-more-intimate-to-stage than balconies in most other venues.
A note about parking: Street/meter parking is available, plus several garages nearby (including one across the street). BUT, the Astros have a game that evening, so Uber, etc., suggested for non-VIP ticket holders.
Again, please visit this docfestjazz.org link for more Sept. 7 concert information and to purchase tickets.
Bob hopes to see you on one or both evenings! If not possible to attend, please consider a contribution (tax-deductible); any amount welcome! See docfestjazz.org
Check out photos from the event (courtesy Alex Kosmala): https://houston.illiniclub.org/images.html?view_album=59
Event Details
When:
7:30PM - 10:00PM Sat 7 Sep 2019, Central timezone

Where:
Denney Theatre at Kinder High School for the Performing and Visual Arts
790 Austin Street
Houston, TX 77002
[ Get Directions ]