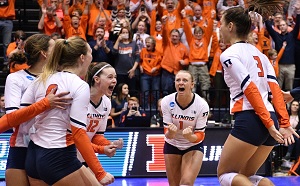 With your guests this Thursday, 12/13 at 8 PM, you are invited to join other Illini supporters at Christian's Tailgate at 5114 Kirby Drive. We will watch the Illini Women's Volleyball team who have advanced to the Final Four of the 2018 NCAA Volleyball Championship!
Our Illinois team had punched its ticket to Minneapolis and by beating No. 6 Wisconsin in four sets (25-19, 15-25, 25-22, 25-12). By doing so we advanced to the National Semifinal for the fourth time in program history and the first since 2011. They will face another familiar foe as they take on Nebraska on Thursday (December 13) at the Target Center in Minneapolis.
Nancy Bradford is the Houston Illini Club event coordinator! E-mail Nancy with any questions.
When:
Thursday, 12/13/18 at 8:00pm | iCal
Where:
Christian's Tailgate
5114 Kirby Dr.
Houston, TX 77098 USA
[ Get Directions ]